Fresh blow for beleaguered Thanet District Council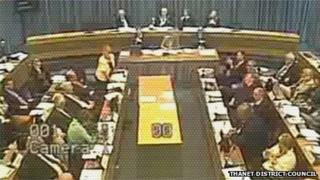 If Thanet District Council thought the independent report into behaviour at the council would draw a line under the recent difficulties the council has experienced it seems they were wrong.
Instead, at a meeting on Thursday night to discuss the report's recommendations the four independent members of the council's standards committee, including chairman Robin Hills, quit.
Their report concluded standards of behaviour at the council were so poor it had "the appearance of a dysfunctional organisation".
It also found the public thought councillors were secretive and corrupt, and it recommended compulsory training for all councillors to improve standards.
'Damaging local democracy'
But council members didn't take kindly to the criticism and rejected the conclusions. The council's leader Clive Hart said the report had damaged the image of the council and unfairly tarnished the reputation of all members.
There's no doubt their resignation is a further blow to the beleaguered council.
Last month, the council was the subject of a complaint to the European Commission that it had provided TransEuropa - an ailing cross-Channel ferry company with "illegal state aid" worth £3.4m. The complaint was rejected.
And the council's image was dealt another blow when its former leader Sandy Ezekiel was jailed in March for misconduct in public office.
Tony Travers, the local government expert at London School of Economics, said on-going problems at Thanet council were damaging local democracy ahead of the next local elections in the district in 2015.