Surrey University vet school buildings approved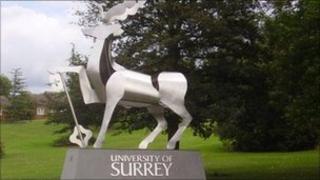 Three buildings are to be constructed at the University of Surrey to house a new £45m school of veterinary medicine.
Guildford Borough Council has granted planning permission for the buildings on the Manor Park campus.
The university said the school will be the first in the South East outside London.
Work on the site will begin early next year, with the buildings scheduled for completion in autumn 2015.
These include a main academic centre with offices, teaching spaces, lecture theatres, and labs.
There will also be a veterinary pathology building and a large animal clinical skills centre.
Prof Lisa Roberts, executive dean of the Faculty of Health and Medical Sciences, said: "The new school will provide a stimulating environment, not only for the undergraduate students, but for the professional development training of qualified veterinary surgeons."