Horses rescued from "out of control" Surrey breeding premises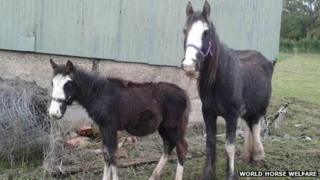 Almost 60 horses have been removed from breeding premises that "spiralled out of control", a charity has said.
World Horse Welfare said at its peak last year, there were about 120 horses and donkeys as well as llamas, goats, rheas, pigs and geese at the premises in the Farnham area of Surrey.
A spokeswoman said more foals were being born every year including mules.
The Donkey Sanctuary had called the charity for help.
A World Horse Welfare spokeswoman said the breeder had 14 horses in 2002 and brought in 10 others to start a breeding programme.
"Unfortunately, as the charity is increasingly seeing during this tough economic climate, the owner's personal circumstances changed, which led to her struggling with the financial and everyday responsibility of the growing herd," the spokeswoman said.
"The owner of the animals did make some attempts to stop the breeding by having many of the stallions gelded - but not all, so the breeding continued."
After the charity's intervention, the owner managed to sell a number of horses and the charity took most of the rest.
The spokeswoman said the owner now has "a handful of horses" and no breeding capabilities.