Carers of Alps al-Hilli sisters seek residency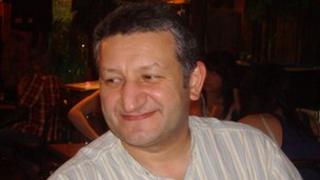 A couple caring for two sisters whose parents and grandmother were shot dead in the French Alps have applied to be allowed to live permanently in the UK.
Saad al-Hilli and his wife Iqbal, from Claygate in Surrey, her mother Suhaila al-Allaf and French cyclist Sylvain Mollier, were shot on 5 September 2012.
Zainab, then seven, was badly hurt and Zeena, four, escaped without injury.
A High Court judge said it would be in their best interests to stay in Britain with their carers, who are relatives.
Mr Justice Baker was giving brief detail of the couple's residency application in a written ruling after analysing issues surrounding the girls' welfare at hearings in the Family Division of the court.
"I emphasise that this is not a matter for me but, rather for the immigration authorities," he said.
'Special guardians'
Mr al-Hilli was an Iraqi-born British citizen. His wife held an Iraqi passport and her mother was a Swedish national.
Mr Justice Baker said he had made orders appointing the couple the girls' "special guardians".
He went on to praise the couple for the "dedication" they had shown, adding: "I commend them for all that they have done, and all that they are going to do in future, for the benefit of the girls."
The judge also said he wanted to acknowledge the "very great care and skill" shown by social workers, lawyers and police involved in the girls' case.
He concluded: "I send my very best wishes to the girls."