Local Conservatives support Reigate's Crispin Blunt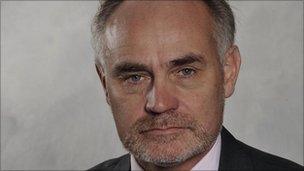 MP Crispin Blunt has called on his Conservative association's executive council to "consider their positions" after he was reselected as a candidate.
The MP for Reigate and Banstead was reselected by a margin of 5-1 after a ballot of constituency members.
The vote overturned a decision by senior Tories in September not to endorse him as a candidate for 2015.
Mr Blunt, 53, who has represented the constituency since 1997, revealed he was gay after the 2010 election.
Following the result, the former minister said receiving "such a strong endorsement" would enable him to defend his record as MP in the 2015 general election "and make the case for a majority Conservative government".
He said he regretted that the ballot had to take place, and had been "astonished by the irrational and unexpected action of the executive council".
"Something changed in 2010. I came out in 2010. I had been unanimously reselected on secret ballots running up to 2010.
"I'm afraid there is enough evidence on the record of members of the executive council saying things... that my sexuality was an issue for some of them," Mr Blunt said.
"I want them to consider their positions and whether they think it is appropriate to contribute to taking the Reigate Conservative Association forward."
He added that the result showed Reigate and the party was "overwhelmingly united" around his candidacy, and "that we are fair; that we are tolerant; and that we judge others on their ability, not on characteristics that are beyond their control".
The MP won the Reigate and Banstead seat in the 2010 election with a majority of 13,591,
Later that year he disclosed he was gay and had separated from his wife Victoria, with whom he has two children.
In August, he was among Tory MPs who voted against military action in Syria in the House of Commons, defeating the government motion.
Speaking at the time, he said people must reach their own conclusions about what had changed since the 2010 election to cause his relationship with the 20-member executive council to go wrong.
A senior Conservative on the association's executive council told the BBC they were pleased the situation was resolved.
Related Internet Links
The BBC is not responsible for the content of external sites.