Surrey and East Sussex councils get powers to deal with road works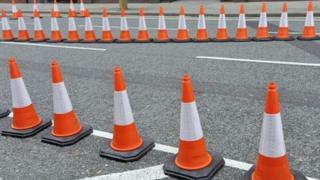 Road users "plagued" by road works in Surrey and East Sussex will benefit from new council powers to limit them.
Surrey County Council said the new permit scheme would reduce the number of works in the county by about 2,400 every year.
A spokesman said previous rules allowing different firms to dig up the same roads one after the other had caused "misery" to road users.
The scheme has been launched jointly with East Sussex County Council.
A Surrey County Council spokesman said the two authorities had applied for and been granted greater powers from the government to deal with the issue.
'Plan better'
Previously, firms such as utility companies had to inform councils where they would carry out the works but now, they have to ask the authorities for permission to undertake them and pay for permits.
The spokesman said there had been cases when one firm had dug up a road and relaid it, only for another to come and dig it up again.
"What we will do is say to both companies that they have to work together to limit disruption," the spokesman said.
"The onus is on the companies to plan better."
He said firms would also be told not to divert people from one set of road works to another, and would have to follow clear rules including times and days of work.
If workers break a permit or dig without one, they can be handed a fine or prosecuted in the most serious cases, he said.
He added that if companies failed to limit their impact on traffic, they would be refused permission to carry out the works.