Lord Beaverbrook: Council asked to end Cherkley Court bid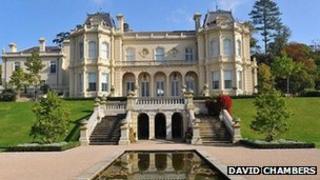 A special meeting has been convened to discuss a motion calling for a Surrey council to withdraw a legal appeal over Lord Beaverbrook's former home.
Both Mole Valley council and developers Longshot Cherkley Court Ltd have been given leave to appeal after the High Court quashed development plans for the estate near Leatherhead.
Longshot had wanted to develop a hotel and golf course at Cherkley Court.
The meeting is open to the public and will be webcast on Wednesday.
'Investment and growth'
Councillor for planning, John Northcott, said the council decided to appeal because it believed the decision taken in 2012 by councillors to allow the development was legitimate.
He said the council believed the development would bring economic investment and growth to Mole Valley when it was most needed, as well as securing public access to a local landmark.
Press baron Lord Beaverbrook lived in the house from 1911 until his death in 1964.
The Beaverbrook Foundation bought the estate after the death of Dowager Lady Beaverbrook in 1994 and ran the estate with the intention it would pay for itself, but falling visitor numbers meant it closed to the public in 2009.
The following year the estate was put up for sale with an asking price of £20m. Longshot bought the property and unveiled the development plans a year later.
The development plans are opposed by the Cherkley Campaign and the Campaign to Protect Rural England who believe the proposals impact on the green belt landscape of the North Downs, and have also said there are already 141 golf courses in the county.