Curtain up for new £3.5m Royal Holloway theatre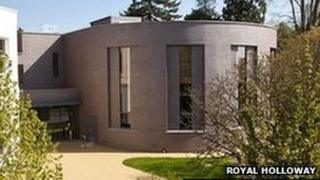 A new £3.5m theatre at Royal Holloway University will help raise the cultural provision in Surrey, head of drama Prof Dan Rebellato has said.
The 175-seater, two-tier Caryl Churchill theatre will be officially opened later.
It has two large rehearsal studios, a workshop for set and prop construction that backs onto the stage, dressing rooms, and a front-of-house area.
Prof Rebellato said it was "one of the best university theatres" in England.
Playwright honoured
The theatre at the Egham campus of the University of London replaces one built in 1981 but demolished after falling into structural decline.
It has been built alongside the Grade II listed Regency building Sutherland House, with the whole complex being renamed the Katharine Worth building, in honour of the professor who founded the department of drama and theatre 35 years ago.
The theatre, which was designed by architect Tim Foster, is named after renowned British playwright Caryl Churchill.
Guests at the inauguration ceremony on Wednesday evening will see the theatre in action with a performance of Tim Crouch's play My Arm, which tells the story of a boy who holds his arm in the air for 30 years.