Homemade dummy on M3 bridge sparks Surrey police alert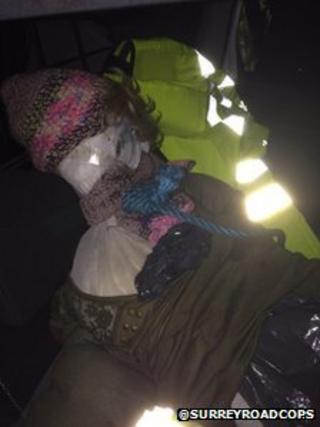 Pranksters who left a homemade dummy hanging from a bridge over the M3 in Surrey are being sought by police.
Police patrols and a helicopter were sent to the scene near junction three for Lightwater after reports someone had jumped from the bridge.
Surrey roads police tweeted a photo and said: "Some Dummy just hung this Dummy from the M3 J3. Many units sent to search for body including helicopter."
A white van was seen in the area where it was left on Friday night.
'Time wasted'
Officers said they initially responded to a call from a member of the public who said they saw a person jump from a bridge, but gave the wrong location.
"We were searching the bridges in the locations given and called the helicopter to assist. Dummy discovered further back," a message on their Twitter feed said.
They said 15 to 20 minutes was spent searching for a body, but it was still "time wasted".
"May seem funny to some but those units could have been prevented from dealing with a real emergency," they tweeted.