Epsom Hospital to keep A&E and maternity wards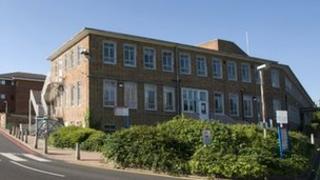 Epsom Hospital is to keep its A&E and maternity wards after doctors voted against plans to shut them.
GPs in the Surrey Downs Clinical Commissioning Group voted to pull out of a reorganisation of medical services in Surrey and south west London.
Miles Freeman, the group's chief officer, said it would still look at improving services at Epsom.
The other clinical commissioning groups involved in the plans said they were "taking stock" of the decision.
The Better Services Better Value (BSBV) proposal was to have three hospitals with A&E and maternity units across fives sites - Epsom, St Helier, Kingston, Croydon and St George's.
Mr Freeman said: "We thought it was extremely important that our GPs made an informed decision about what services they want on the Epsom Hospital site and whether they supported the BSBV proposals.
"Two thirds of our GPs voted and 75% have come back and said they do not support those proposals so, as a consequence, we'll be withdrawing from the programme.
"That doesn't mean that we're burying our head in the sand or looking for no change at all. We will still be looking to improve services on the Epsom site," he added.
"They already deliver a high standard of care and we do think that there are improvements that can be made.
"And we'll be putting in place our out-of-hospital strategy which is how we support patients in their own homes with community teams to use hospital services as little as they need to."
'Call to action'
In a joint statement, Croydon, Kingston, Merton, Richmond, Sutton and Wandsworth clinical commissioning groups (CCG) said: "We are taking stock of the fact that Surrey Downs CCG has chosen not to remain part of the BSBV programme. We understand and respect their position.
"Clinicians want to achieve the best possible quality in our health services and we are all committed to the London Quality Standards."
NHS England has set out a "call to action" to staff, politicians and the public to help it meet future demand and tackle a funding gap through "'honest and realistic" debate.
In the statement, the groups said: "The six south west London CCGs will continue to work together to prepare a collective response to the Call to Action.
"We will continue to work very closely with Surrey Downs and with our members as we discuss the next steps."