Surrey NHS trust backs Thorpe Park Asylum maze rename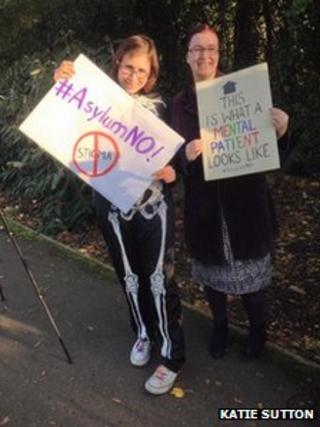 A mental health hospital trust has backed a petition calling for a Surrey theme park to rename an annual Halloween attraction called The Asylum.
Nearly 6,000 people have signed the petition, which says Thorpe Park's maze stigmatises those with mental illness.
Surrey and Borders Partnership NHS Foundation Trust has now sent a letter to the park urging it change the name.
Thorpe Park says the maze is not meant to be a realistic portrayal of a mental health institution.
'Outdated stereotypes'
In the letter, Jo Young, who is director of quality at Surrey and Borders Partnership NHS Foundation Trust, writes: "We accept that your Fright Nights are designed to appeal to people's sense of fun around Halloween - but unlike vampires, zombies, werewolves and other fictitious horror figures, people with mental illness are real...
"Misrepresenting them does cause offense, does reinforce old and outdated stereotypes of people who have experienced mental ill-health, and does reinforce stigma and discrimination."
It continues: "We regret that we have not approached you sooner about this attraction, but the fact that this has been open for eight years is not a good reason not to reflect on doing things differently in the future.
"We believe this would be the responsible thing to do: an act that is in the best interest of vulnerable people.
"We appeal to your humanity and kindness and ask that you rename this attraction and rethink this concept for your Fright Nights."
The petition was started by Katie Sutton, who is a mental health nursing student at the University of Salford.
'Not deemed offensive'
She said she first became aware of the maze through Twitter and wanted to take a "stand against this sort of lazy and damaging stereotyping".
On 30 October she delivered a copy of the petition to the theme park while she was dressed as a zombie.
The Asylum maze has been part of Thorpe Park's Fright Nights, which are held in October and November, for eight years.
In a statement, the theme park near Chertsey previously said the maze was a very small element of an event aimed at adult visitors.
It continued: "It is not intended, nor is it deemed to be by those who have actually experienced it, to be in any way offensive or to be a realistic portrayal of a mental health or indeed any other institution."
In September, supermarket chains Tesco and Asda withdrew two Halloween outfits - one called a "mental patient fancy dress costume" and the other called a "psycho ward" outfit - after they were also criticised for stigmatising people with mental illness.