Petition demands Thorpe Park Asylum maze rename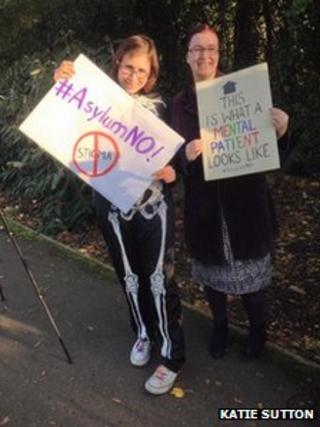 A petition calling for a theme park to rename a Halloween attraction called The Asylum has been delivered by campaigners dressed as zombies.
Student mental health nurse Katie Sutton, who started the petition, believes the attraction at Thorpe Park is stigmatising the mentally ill.
Ms Sutton said the petition now has 5,800 signatures.
The Surrey theme park has said the attraction is not a realistic portrayal of a mental health institution.
Last month, supermarket chains Tesco and Asda withdrew two Halloween outfits - one called a "mental patient fancy dress costume" and the other called a "psycho ward" outfit - after they were also criticised for stigmatising people with mental illness.
'Not Halloween killjoys'
Ms Sutton said: "It's time we all took a stand against this sort of lazy and damaging stereotyping.
"It's completely irresponsible that a brand as high profile as Thorpe Park would link mental illness with this kind of outdated nonsense.
"Thorpe Park has said that they haven't received many complaints - so we're taking the thousands of signatures to their door to show them how many people think The Asylum maze must go."
She said campaigners were dressing up as zombies to prove they were not "Halloween killjoys" as suggested by some opponents on Twitter - and as a way of suggesting a new theme for the maze.
In a statement last week, the theme park near Chertsey said the maze was a very small element of an event aimed at adult visitors.
A spokeswoman said the maze was an obviously extreme and simulated experience which drew on classic horror film content.
She said: "It is not intended, nor is it deemed to be by those who have actually experienced it, to be in any way offensive or to be a realistic portrayal of mental health or indeed any other institution."
The Asylum maze has been part of Thorpe Park's Fright Nights, which are held in October and November, for eight years.