Godalming bonfire burns to ground a week early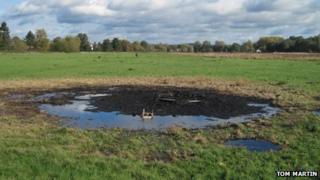 A Surrey town has scrambled to rebuild a bonfire for its fireworks display after it burnt down a week early.
Godalming Lions Club had taken four months to collect wood and build the bonfire, which was due to be lit at the Lammas Lands this Saturday.
But Godalming mayor Tom Martin said it was set alight on Saturday evening, possibly deliberately.
Now thanks to a successful Facebook appeal it will be rebuilt before being burnt down again.
Mr Martin said: "The bonfire was made up of a whole series of pallets because it had to have a structure inside so it burns well.
"The Lions Club had been collecting pallets for several months and were starting to put things together on site."
"We don't know exactly who burnt it down or why.
"We're concentrating on getting the show back on the road."
Truckloads of pallets
Mr Martin launched an appeal to build a new bonfire on his Facebook page.
"We had an unprecedented response," he said.
"We have managed to arrange for a few truckloads of pallets to arrive at the site and we will be unloading them and building the bonfire as a real community event.
"We are leaving it until Saturday morning to build the bonfire and Saturday night to officially and properly burn the bonfire."
Surrey Fire and Rescue Service said an engine from Godalming fire station attended the blaze, which started at 20:20 BST and took a couple of hours to extinguish.
Surrey Police were called as it was thought to be deliberate.
A spokesman said officers were investigating the fire as a suspected arson.