Cherkley Court golf course wrangle returning to court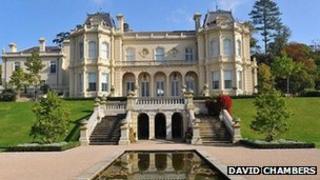 A wrangle over whether the former home of press baron Lord Beaverbrook should be turned into a hotel and golf course is to return to court.
The plans for Cherkley Court near Leatherhead in Surrey were approved in 2012 by Mole Valley District Council but later overturned by the High Court.
The council and owner of the estate, Longshot Cherkley Court Ltd, have been given leave for another appeal.
The date of the Court of Appeal hearing has not yet been set.
Longshot wants to create a hotel, health club and spa, cookery school and an "exclusive" private 18-hole golf course.
But at a judicial review, judge Mr Justice Haddon-Cave said much of the legal argument revolved around the need for a further golf course in Surrey, which already has 141.
He said the more exclusive the golf club, the less public need was demonstrated.
The council supported the plan because it would reopen the private house and create jobs.
Councillor John Northcott said Mole Valley was pleased permission to appeal had been granted.
"(The council) believes the decision of democratically elected councillors - with a thorough understanding of the issues and the local community - was legitimate.
"In granting this permission, the judge took the view that the grounds of appeal have a real prospect of success.
"The appeal application also raises a number of important principles which need to be resolved."
The plans are opposed by the Cherkley Campaign and the Surrey branch of the Campaign to Protect Rural England.
"We recognise this has become an important case for local planning authorities everywhere," they said in a statement.
"We hope the Court of Appeal will accept the careful consideration of the issues by Mr Justice Haddon-Cave and endorse his conclusions."
Lord Beaverbrook, who owned the Daily Express and was a minister in Winston Churchill's wartime government, lived in the house from 1911 until his death in 1964. It was opened to the public in 2007 following the death of his widow in the 1990s but closed in 2009.