Last Passenger film released after 'shoestring' trailer attracts funding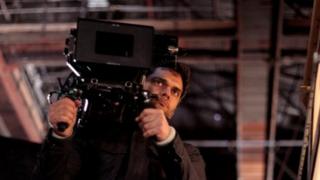 A film whose £500 trailer attracted the support of cinematic giants has been released in cinemas.
Omid Nooshin penned Last Passenger, about a hijacked train, in coffee shops in his home town of Guildford, Surrey.
The trailer was filmed in part at Guildford Railway Station and featured former acting students from the town.
The 90-second advert was enough to prompt a £1.7m investment in the film, which was released last Friday.
Mr Nooshin, who also directed the film, said the trailer was mostly filmed on a slam door train belonging to the Bluebell Railway in East Grinstead, Sussex.
Among the cast were former Guildford School of Acting students.
The finished film stars former EastEnders actress Kara Tointon and Dougray Scott.
Weeks after the trailer was released online in 2011, Mr Nooshin was approached by Pathe and attracted the support of Pinewood Studios and the British Film Institute.
Shooting commenced at Shepperton Studios in September 2011.
The thriller is about single father Lewis Shaler, played by Scott, who is on the last train home from London when he strikes up a relationship with a flirtatious stranger, played by Tointon.
But, it transpires, a sociopath has taken control of the train and intends to crash it, killing those on board.
'Rudimentary effects'
Mr Nooshin, a former Farnham Art College student, said: "When you're trying to do an ambitious movie as a first film, the onus is really on you to prove that you can pull it off.
"Last Passenger was a small movie, it's a $2.5m (£1.5m) movie, and the last movie set on a train was Unstoppable which was $100m (£61m).
"So you have to really prove that you can not only pull it off, but pull it off on a shoestring."
The 2010 American action film Unstoppable starred Denzel Washington, Chris Pine and Rosario Dawson.
Mr Nooshin said the trailer had to be made "very cheaply" but look "great" to entice financiers.
"We shot in one evening, cut it all together, our effects guy added some fairly rudimentary special effects and visual effects," he said.
"We put it out there and after spending nearly a couple of years trying to raise the finance, we were fully financed within about three months."
He said the film had also been sold to France, Germany, Scandinavia, Japan, India, Russia, and Brazil.