MPs support Reigate's Crispin Blunt in reselection fight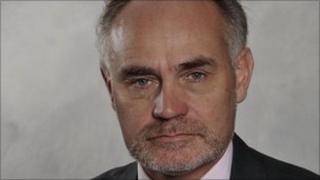 Neighbouring MPs and ministers have expressed their support for Surrey MP Crispin Blunt after he lost the backing of local senior Conservatives.
Reigate and Banstead Conservative Association's executive council decided last month not to endorse him as its candidate in the 2015 general election.
A ballot will now be held of all the association's members to see if they want to reselect him.
Reigate and Banstead Conservatives said the association could not comment.
Prime Minister David Cameron praised Mr Blunt in the Commons this week after he spoke about a Reigate business.
"Can I take this opportunity to pay tribute to him as a constituency MP standing up for people and businesses in Reigate," Mr Cameron told the House.
Syria vote
Mr Blunt, 53, former prisons minister, has represented the area since 1997.
He won the Reigate and Banstead seat in the 2010 election with a majority of 13,591.
Later that year he disclosed he was gay and had separated from his wife Victoria, with whom he has two children.
In August, he was among Tory MPs who voted against military action in Syria in the House of Commons, defeating the government motion.
Mr Blunt said people must reach their own conclusions about what had changed since the 2010 election to cause his relationship with the 20-member executive council to go wrong.
"What I have got to do now is put all of that aside and demonstrate to the members of the Conservative Party locally that they have a decent, hardworking MP who is well-regarded by constituents who have come to me for help and by the people I deal with in the national Parliament," he said.
'Immensely touching'
MPs from Surrey, Sussex and Kent have contributed messages of support on Mr Blunt's website, along with many constituents.
He said it was "immensely touching".
Messages of support from Education Secretary Michael Gove, Chancellor George Osborne and government Chief Whip Sir George Young are among those posted on the site.
Conservative MPs Anne Milton and Philip Hammond from Surrey and Nicholas Soames and Greg Barker from Sussex are among the supporters.
Ballot papers will be sent out to Reigate and Banstead constituency members on 31 October, with the result of the ballot expected on 18 November.