Surrey man John Busby killed on WWII US aircraft flight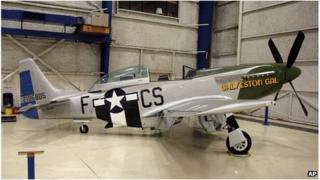 A British man was killed in a plane crash during a wedding anniversary trip in the US.
The pilot of the 1944 Mustang was also killed when the aircraft came down and broke up.
John Stephen Busby, 66, from Woldingham, Surrey, was on holiday in Texas with his wife and the couple were celebrating their 41st anniversary.
Mr Busby had paid more than £1,000 for a 20-minute flight in the plane at the Lone Star Flight Museum in Galveston.
Sgt John Sampa from Texas Highway patrol said: "The plane crashed into four to six feet of water and broke up leaving a wide debris patch.
"We secured the site until the Federal Aviation Administration (FAA) arrived.
"The FAA will carry out a further investigation into what caused the crash."
It is thought a mechanical fault may have caused the accident.
Sgt Sampa confirmed that Mr Busby's wife had been in the museum at the time of the crash.
The experienced 51-year-old pilot Keith Hibbett had regularly flown wartime planes for the museum.