Rise in fungi theft at Surrey Wildlife Trust reserves 'unprecedented'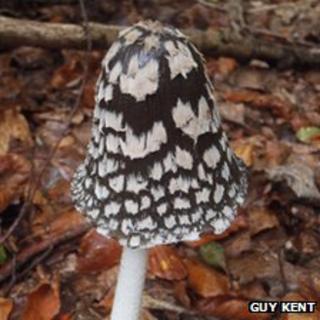 Rangers have reported "unprecedented" numbers of people collecting fungi at Surrey Wildlife Trust reserves to sell on to restaurants.
The trust said most of the foraging was on Sites of Special Scientific Interest, which are protected by law.
Collecting wild mushrooms for commercial gain constitutes theft, the spokesman said.
Notices have been posted at various sites in different languages to try to stop the practice.
The trust spokesman attributed the rise to media coverage of foraging.
He said wild fungi helped to break down dead wood and served as food for small mammals and insects.
Andrew Jamieson, from the trust, said: "We are keen that visitors come to our sites to admire the many fascinating shapes, forms and colours the fungi world has to offer, but please leave them there for the next visitor and future generations to enjoy.
"We want our visitors to be safe, and with many fungi being highly poisonous, it really is best not to touch them."
He said some deadly species were "incredibly similar" to edible ones and required expertise to distinguish.