Vicar Stephen Sizer 'has no regrets' after Jewish complaint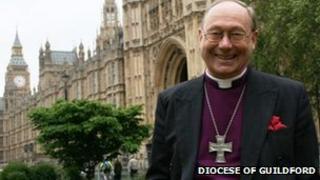 A Church of England vicar has said he has no regrets over comments he made about Israeli policies.
The Board of Deputies of British Jews had made a complaint against the Rev Stephen Sizer, pastor of Christ Church in Virginia Water, Surrey.
It claimed his blog made anti-semitic statements, which he denied, and published links to racist websites.
Guildford Diocese said the complaint, made in October 2012, had now been resolved in a face-to-face meeting.
'Repudiate racism'
Dr Sizer said the meeting was "very healthy" and he took the Board of Deputies' comments on board.
But he said his criticism of some Israeli policies towards Palestinians had "caused offence to those who want to justify those actions".
"I don't regret what I said," he added.
"Anti-semitism is racism - it is dehumanising and treats Jews in a derogatory or negative way. I repudiate that unequivocally."
Jonathan Arkush, vice-president of the Board of Deputies of British Jews, said it had two concerns about Dr Sizer's blog and websites.
"The first is that he was slipping into language that was very, very strongly offensive to Jews and that we regarded as anti-semitic," he said.
"We are not saying that he did so deliberately, but it certainly was its effect as far as we were concerned.
"Secondly, he was linking to articles on some very dark and unpleasant racist corners of the internet so that his readers could see them."
Check blog
The complaint was handled under the Church of England's clergy discipline measure and was resolved with a meeting between Mr Arkush and Dr Sizer.
Dr Sizer did not accept his behaviour was unbecoming to a clerk in holy orders, but agreed to have three people read his website and blog to check their content and monitor links to websites.
The Board of Deputies agreed that its complaint was resolved.
The Bishop of Guildford, the Rt Rev Christopher Hill, welcomed the outcome of the conciliation.
Mr Arkush said the Board explicitly did not criticise Dr Sizer for his views on the Middle East.
"The thing that we did was to criticise him for publishing materials that were anti-semitic and anti-Jewish.
"Israel doesn't come into it."