Grievance probe into council chief David Hill dropped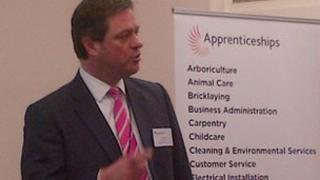 A grievance investigation against the former chief executive of Guildford Borough Council has been abandoned after he left the post.
Proceedings were launched against David Hill in July. The council will not disclose the nature of the grievance.
Councillors on Thursday agreed to replace Mr Hill's role, along with those of three strategic directors.
The authority is considering "whether there are any lessons to be learnt" in relation to the investigation.
The Surrey Advertiser reported that the grievance was launched by Judith Coslett, the council's outgoing head of human resources, who has since left the role.
Mr Hill is understood to have been on leave on full pay while the investigation was being conducted by an independent assessor.
'Lessons learnt'
The council said Mr Hill, who was its chief executive for six-and-a-half years, had begun the process of creating a new senior management structure earlier in the year.
A council spokeswoman said he had left the authority with immediate effect as a result of the meeting on Thursday.
Sue Sturgeon, a former strategic director and chief financial officer on the council, has been appointed as managing director.
Six executive heads of service and six heads of service will be recruited.
A council spokeswoman said: "As David Hill no longer works for the council, the grievance against him cannot be concluded.
"The council is now considering whether there are any lessons to be learnt.
"The council's grievance policy states that the procedure will be carried out in confidence.
"As a responsible employer, we do not comment on the details of such confidential staff matters."
She said she could not disclose the details of any financial settlement given to Mr Hill.
Ms Coslett declined to comment to the BBC. Mr Hill has not responded to a request for comment.