Surrey habitat work aims to help small blue butterfly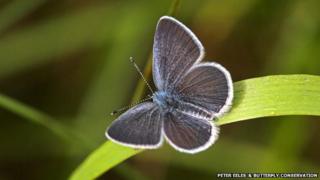 A project to halt the decline of Britain's smallest butterfly is getting under way in the Guildford area.
The small blue has been in decline because of the loss of habitat and is now found in small populations across the UK.
A project concentrating on Newlands Corner, The Mount and Pewley Down aims to improve lowland calcareous grassland to support the butterfly.
Small blues are at fewer than 15 sites on the North Downs.
Southern England is a stronghold for the species, but most colonies have fewer than 30 butterflies within a few square metres, Surrey Wildlife Trust (SWT) said.
SWT is working with Butterfly Conservation, the Albury Estate, Pewley Down Volunteers and Guildford Borough Council.
Grazing and mowing
Paid contractors and volunteers will remove overgrown scrub to create bare ground to encourage grassland plant species.
Seed of kidney vetch, the sole food plant of the small blue, will be sown and grazing and mowing regimes introduced to restore and maintain the sites.
Butterfly Conservation project officer Sarah Meredith said that as well as benefiting the small blue, the project would improve habitat for many other species such as the silver spotted skipper, dingy skipper, chalkhill blue, autumn lady's-tresses, kidney vetch, horseshoe vetch and autumn gentian.
SWT is appealing for volunteers for work parties on 30 November and 7 December.