Stranded ex-superbike racer Sean Emmett speaks to Dubai prosecutors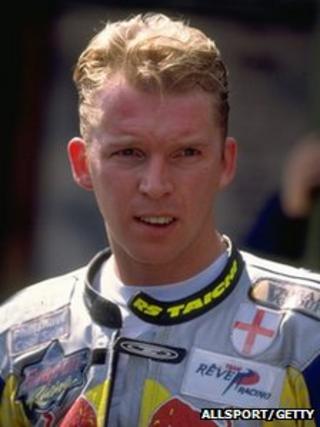 A former superbike racer who has been stranded in Dubai for eight months after his wife fell to her death has met with prosecutors in the city.
Sean Emmett's wife Abbie fell from their hotel room in February. Her death was recorded as suicide.
Mr Emmett, of Addlestone, Surrey, had his passport confiscated in March but he has never been arrested or charged over his wife's death.
He met prosecutors earlier and will return on Thursday with a local lawyer.
"Effectively, it's been adjourned until tomorrow because I thought it was wise to have legal council if I'm going to start asking questions about something that happened eight months ago," Mr Emmett said.
Mrs Emmett, 27, died after falling from the window of their room at the Jumeirah Creekside Hotel on 19 February.
The couple had been in Dubai on a 48-hour stopover after their wedding and honeymoon in Cape Town, South Africa.
'Media frenzy'
Dubai Police said at the time that they did not believe there were any suspicious circumstances.
But the press in Dubai have reported that prosecutors are now investigating whether Mrs Emmett was murdered.
Mr Emmett, who won 19 British Superbike events during his career, was arrested when he went to a police station to complete paperwork relating to his wife's death.
His passport was confiscated and he was fined 2,000 dirham (£350) for drinking alcohol without a licence.
His passport has not been returned and he is unable to leave the country.
Mr Emmett said he thought that recent reporting of the case in the UK had led to the progress in his case.
He said: "I think what's happened is because of the media frenzy in the UK, someone over here has been given a tap on he shoulder to say 'look, what is happening with this case' because I've had no contact with anybody - prosecution or the police or anything - for nearly six months.
"I think the case has been dormant and no-one has actually been looking at anything.
"Fingers crossed, tomorrow something positive happens. I've done absolutely nothing wrong."
Mr Emmett, who has called on the UK government to help him return home, spoke to Runnymede and Weybridge MP and Defence Secretary Philip Hammond about his case last week.
Mr Hammond said: "The issues are complicated - I am in contact with the Surrey Coroner and the Foreign and Commonwealth Office are talking to the Public Prosecutor's office in Dubai to try to unravel where the log jam is."
The Dubai authorities were not available for comment.