Canaries, ferrets and dog stolen from Woking home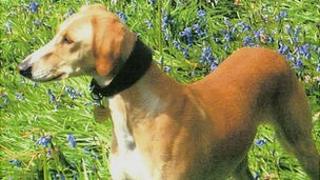 Over 50 canaries, a pedigree dog and five ferrets have been stolen from a property in Surrey.
The animals were taken from a house in Woking between 22:00 BST on Wednesday and 05:00 on Thursday.
The dog, a white and red saluki called Dolly that was valued at about £1,500, was taken from inside the Goldsworth property, Surrey Police said.
The ferrets were taken from hutches in the rear garden, while the canaries were stolen from an aviary in a shed.
Each of the birds was tagged with a ring on an its ankle, while the dog was microchipped.
The five ferrets, three albino and two dark brown, were not tagged.
Police have appealed to anyone with information about the theft to come forward.