Healthwatch Surrey says Epsom Hospital plans 'London-centric'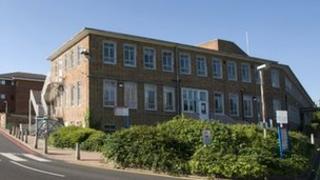 A health watchdog has claimed a review into the future of Epsom Hospital in Surrey is "London-centric".
The hospital could lose its A&E and maternity units as part of the reorganisation of medical services in Surrey and south-west London.
Healthwatch Surrey claimed the plans ignored the potential impact on people in the county.
The review's organisers disagreed with the claim and said all residents' concerns would be taken into account.
The Better Services Better Value (BSBV) proposal is to have three hospitals with A&E and maternity units across fives sites - Epsom, St Helier, Kingston, Croydon and St George's.
Richard Davy, from Healthwatch Surrey, said: "My primary concern is that most of the issues being discussed around the review focus on the services that will be available from the London hospitals and that doesn't really take into account, from our perspective, the needs of the people in Surrey."
'Best clinical standards'
He said journey times for people who had to use the London hospitals and difficulties with public transport, were potential issues for people in the county.
"We feel that the the proposals about the actual consultation itself are not putting forward all issues that people can discuss, focused on the people of Surrey," he said.
In a statement, a spokesman for the BSBV review said: "I'm sorry Healthwatch Surrey feel that way as we have been talking to local people in Surrey and even delayed the programme so that we could engage with them more.
"I don't think the review is London-centric - it is based on achieving the best clinical standards available to us, which are known as the London Quality Standards.
"We plan to talk to local people much more during consultation, including all local Healthwatch organisations."