Surrey fire crews lose day's pay over four-hour strike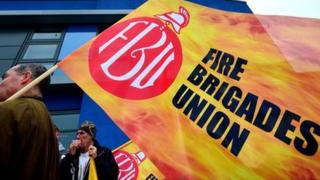 Striking firefighters in Surrey have been told they will lose a full day's pay for taking part in the national four-hour walkout over pension changes.
It is the only authority in England and Wales to say crews will not be allowed back to work when it ends at 16:00 BST.
Fire Brigades Union general secretary Matt Wrack described the decision as "absolutely scandalous".
Trained fire crews from the private firm Specialist Group International, based in Dorking, are providing cover.
Councillor Kay Hammond, cabinet member for fire and police services, said residents would be kept "as safe as possible".
'Utterly betrayed'
"Surrey residents will still expect a service whether firefighters are on strike or not," she said.
"We will have various appliances at strategic places across the county to provide not as good a cover as we normally have when the firefighters are there."
Councillor Hammond said firefighters had been advised that if they took industrial action, they would not get paid for the day.
"If you don't come to work you don't get paid.
"If they walk out for those four hours, again they don't get paid for the day," she said.
Mr Wrack said staff across the country had agreed to return to work in the event of a major incident.
"The only fly in the ointment is Surrey where, because of [the council's] provocative stance, we can't guarantee that those arrangements would be in place.
Contingency plans
"We can't guarantee that, for example, firefighters from neighbouring counties will come into Surrey during the lock out.
"It is absolutely scandalous what is happening."
Mr Wrack added that members felt "utterly betrayed" and it was the only fire service refusing to allow fire crews back to work.
Eleven crews - about half the normal cover for Surrey - are covering for the striking firefighters, who walked out at midday.
The industrial action follows a dispute between the Fire Brigades Union (FBU) and the government over pensions.
The government has offered to release full pensions to firefighters when they reach the age of 60, but the FBU has said it is "ludicrous" to expect firefighters to fight fires and rescue families in their late 50s.
Each of the 46 local fire services in England and three in Wales have contingency plans to provide cover and 999 calls will be answered during the action.