More sand lizards released on Farnham Heath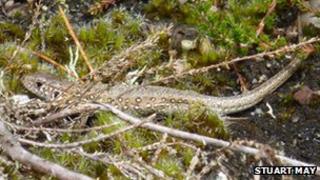 About 50 sand lizards have been released at an RSPB site in Surrey.
The reptiles are being gradually released into sites around the UK where the habitat is deemed to offer them a good chance of flourishing.
Staff from several conservation bodies helped release the juvenile lizards, which were bred in captivity near Guildford for release at Farnham Heath.
It is the second phase of a three-year scheme to reintroduce the endangered species.
Experts say the lizards were lost from the area after World War II, partly due to development.
Conservationists from the RSPB, Amphibian and Reptile Conservation and Natural England hope the lizards will start to get used to their new habitat before hibernating, giving them the best opportunity to stabilise and grow next year.
But the RSPB site manager, Mike Coates, said it might be some time before they knew whether the populations on the heathland were proving sustainable and even colonising new areas.
A further 50 sand lizards will be released at Farnham Heath and at sites in Dorset and Merseyside next September.
The sandy soil of the heathlands and the dunes of Merseyside offer an ideal habitat for the lizards, which are protected by law.
They are now listed as a priority species for conservation action and part of the UK's Species Action Plan.