Esher conservation area bid for 1970s lakeside housing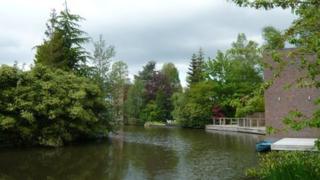 A conservation area proposed in Surrey could see the first example of modern 20th Century architecture to be protected in Elmbridge borough.
The council wants a new conservation area in Esher, where 1970s housing is set around an 18th Century lake.
Elmbridge's existing 24 conservation areas include town centres, village greens, a motor racing circuit and river navigation channels.
Consultation on the plan for Lakeside Drive runs until 18 October.
Brooklands racing circuit
The council said most conservation areas tended to cover older architecture from the 17th, 18th, 19th and early 20th centuries, and this would be the borough's first modern 20th Century architecture conservation zone.
Currently, Elmbridge's two most modern conservation areas cover Brooklands racing circuit, where construction began in 1906 before it opened in 1907, and Whiteley Village where building work began in 1914 and was completed in the late 1920s.
Councillor Mary Sheldon, portfolio holder for regulatory affairs, said: "This is an exciting example of how the council are recognising the unique and special character of an area created by relatively modern architecture."
The development of detached houses in Esher was designed by the architect Royston Summers.