Military covenant signed at Headley Court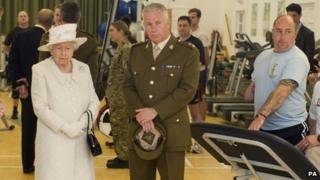 A covenant strengthening links between Headley Court and the local community has been signed in a ceremony at the military rehabilitation unit in Surrey.
Business leaders, police, councillors and local MP Sir Paul Beresford were among those who signed the Mole Valley District Council military covenant.
Canon Peter Bruinvels said the covenant was to forge and cement a close relationship with Headley Court.
Gp Capt Clare Walton said it was a significant milestone.
Headley Court, between Dorking and Epsom, has treated war-wounded and sick service personnel since World War II, but expanded to treat casualties from Iraq and Afghanistan.
Facilities include a hydrotherapy pool, swimming pool, four gyms and limb-fitting and amputee centre.
School governors
The unit was given the freedom of Mole Valley in 2010. More than 5,000 people turned out for an armed forces parade through Dorking in June.
Civilian-military liaison adviser Canon Bruinvels said the covenant, signed on Friday, would ensure service personnel were fully integrated into the local community.
"The armed forces community don't even have a fixed address," he said,
"They come into the area and they need all the basic services such as GPs and education and it is two-way.
"For instance, I know of Headley Court officers and other staff who are governors of local schools and one or two are football coaches."
He added that local businesses were keen to offer discounts and employ ex-service personnel.
Gp Capt Walton, Headley Court Commanding Officer, said: "It is a proud moment for us to sign this covenant and our armed forces deserve our thanks for a job well done.
"The signing ceremony is a significant milestone and a true reflection of the respect shown by the community of Mole Valley to all those who have and continue to serve."