Shareholders needed to save Banstead's Ibis Bookshop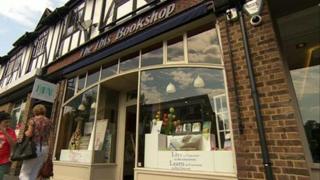 A campaign is under way to try to save a Surrey bookshop which has been a local landmark for 75 years.
The Ibis Bookshop, in Banstead High Street, is facing closure because of increased rent and running costs, along with competition from online retailers.
Owner Linda Jones hopes that by using "crowd funding", £400,000 can be raised to buy the freehold of the building.
She said 4,000 people were needed to each buy a share for £100 in what was "a good sound business proposal".
"It's a hill, but I think if anyone can do it, we can do it," Ms Jones added.
Independent bookshop
The bookshop has been described by residents as a "local institution" at the heart of the town, with one customer coming in every day just for "a cup of tea and a chat".
It opened in 1938, and is the oldest surviving bookshop in Surrey, Ms Jones said.
"It has traded as an independent bookshop for its entire 75 years."
Ms Jones took over the shop 13 years ago and employs five part-time staff.
She has been self-funding it in order to keep the business afloat, with the total amount of money spent so far being £71,000.
'Wonderful response'
"The reality is you have to let go when it becomes financially risky... when you're not getting the turnover," she said.
"The rent and rates are £2,600 a month, and that's without stock and bills.
"£10,000 a month is needed just to stand still."
Ms Jones said the idea to sell shares came from a regular customer with two young children.
"He said: 'You can't close'," she recalled.
So far £160,000 has been pledged after just nine days in a scheme that "can only grow in value", she said.
If successful, it will keep the bookshop open for another couple of years, fundamentally saving £2,000 a month in rent, and leaving the business just to fund the stock, wages and bills.
Ms Jones said she was hoping that a benefactor "who loves books" would also be able to help, but if the shop was to ultimately close then the shareholders would still benefit from the new owner of the building paying rent.
She said she had received "the most wonderful response from the people of Banstead", and hoped the shop's plight would make people rethink they way they bought.
"We have to re-educate people about how they're buying.
"If we really don't make a stand now, we're in danger of becoming a very insular community," Ms Jones said.