Horley Leisure Centre becomes centre of poomsae taekwondo excellence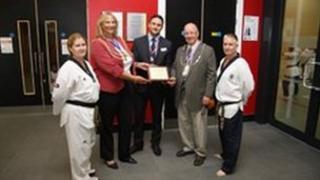 A leisure centre in Surrey has been officially recognised as a centre of excellence for poomsae taekwondo.
Horley Leisure Centre received its plaque from British Taekwondo.
A council spokesman said all Great Britain's poomsae athletes trained at the centre, which also has national and international referees and world masters.
Poomsae, also known as patterns, is a set sequence of movements, as opposed to sparring, or fighting.
The £9m Horley Leisure Centre, which includes a 25m swimming pool, fitness suite and dance studio, opened to the public in January last year.
It replaced the ageing Horley Anderson Centre, which opened in 1974, and has been built on the site of the former Court Lodge Secondary School.