Quashed Surrey Beaverbrook estate plans prompt appeal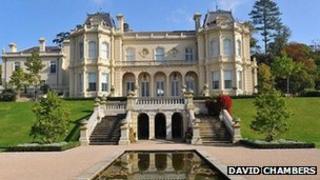 A company that wants to develop Lord Beaverbrook's former Surrey home is to appeal after the High Court quashed planning consent for its hotel and golf course plans.
The plans for Cherkley Court near Leatherhead were approved in 2012 by Mole Valley council, but that decision was overturned on Thursday.
Owners of the estate, Longshot Cherkley Court Ltd, said they were "amazed".
The company said it would be appealing against the High Court ruling.
Row over 'need'
Longshot Cherkley Court wanted to create a hotel, health club and spa, cookery school and an "exclusive" private 18-hole golf course.
But High Court judge Mr Justice Haddon-Cave had said much of the legal argument revolved around the need for a further golf course in Surrey.
He said the more exclusive the golf club, the less public need was demonstrated.
And he said the council had misunderstood the meaning of "need" when the plans were approved.
Campaigners had also argued Surrey already had 141 golf courses and the plans impacted on the green belt.
The council supported the plan because it would reopen the private house and create jobs.
Judge's decision 'flawed'
A statement from Longshot Cherkley Court said its legal team were "as amazed as they are appalled" at the High Court decision.
It said: "The unanimous opinions that they received stated that judicial reviews are based on examinations of due process and that 'need' is of no relevance whatsoever.
"As a result, Cherkley Court has been advised in the strongest possible terms to appeal, advice which it will be following."
Lawyers working for Longshot Cherkley Court said they still took the view the council decision had been "robust, lawful and correct", and the judge had reached "a flawed decision".
The property was built in 1866 before being rebuilt in the French chateau style in the 1890s.
Press baron Lord Beaverbrook lived in the house from 1911 until his death in 1964.
The Beaverbrook Foundation bought the estate after the death of Dowager Lady Beaverbrook in 1994 and ran the estate with the intention it would pay for itself.
But falling visitor numbers meant it closed to the public in 2009.
The following year the estate was put up for sale with an asking price of £20m. Longshot bought the property and unveiled development plans a year later.