Surrey Cherkley Court hotel and golf club plan quashed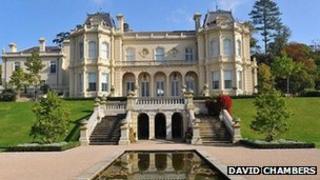 Plans to turn Lord Beaverbrook's former Surrey home into a luxury hotel and golf course have been quashed.
Environmental campaigners and residents took High Court legal action to contest a decision by Mole Valley council to allow the Cherkley Court development.
The council had said the development near Leatherhead would reopen the private house and create jobs.
But lawyers representing The Cherkley Campaign questioned whether Surrey needed another golf course.
Opponents said the plans impacted on the green belt landscape of the North Downs, and there were already 141 golf courses in Surrey.
Owners of the Grade II-listed property and 375-acre estate, Longshot Cherkley Court Ltd, had planned to create a hotel including a health club, spa, cookery school and an "exclusive" private 18-hole golf course.
'Zero sum game'
Quashing the council's decision, Mr Justice Haddon-Cave said the move was legally flawed, contrary to planning policy and irrational, and the reasons given for it were inadequate.
The judge said much of the legal argument revolved around whether a need for further golf facilities could be demonstrated.
But he said the case answered itself and added: "The more exclusive the golf club, the less public need is demonstrated. It is a zero sum game."
He said he upheld the legal challenge on the grounds that the council misunderstood the meaning of "need", the conclusion that the landscape would not be compromised by a golf course was "perverse", and the authority "at best paid lip service to the green belt policy but did not apply it".
'Great victory'
After judgement was handed down, councillor John Northcott, the council's portfolio holder for planning, said "Mole Valley District Council vigorously defended its handling of this planning application and we are very disappointed that the challenge has been upheld.
"This application was the most complex in the council's history and, given the decision, we will now need to take time to consider what our next steps will be and the impact this will have."
Tim Harrold, chairman of the Cherkley Campaign, said it was "a great victory" and the judgement showed the campaigners were entirely justified in pursuing the action.
Andy Smith, from the Campaign to Protect Rural England Surrey, said he hoped this would be the end of the matter.
The property was built in 1866 before being rebuilt in the French chateau style in the 1890s.
Press baron Lord Beaverbrook lived in the house from 1911 until his death in 1964.
The Beaverbrook Foundation bought the estate after the death of Dowager Lady Beaverbrook in 1994 and ran the estate with the intention it would pay for itself.
But falling visitor numbers meant it closed to the public in 2009.
The following year the estate was put up for sale with an asking price of £20m. Longshot bought the property and unveiled the development plans a year later.