Surrey Drive Smart safety campaign as cyclist injuries rise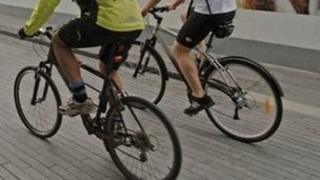 A rise in cycle casualties in Surrey has led to a new safety campaign.
Surrey County Council's cabinet transport spokesman John Furey said the numbers of cyclists killed or seriously hurt had risen in the past 18 months.
Figures showed there were 124 incidents in 2012, compared with 50 in 2008. The first five months of this year saw 57 accidents reported, he said.
The county's Drive Smart campaign is urging drivers and and cyclists to treat each other with respect.
Supt Chris Moon said Surrey's roads were among the busiest in the South East.
Leisure cycling is on the increase and - following London 2012 and RideLondon-Surrey - the county is a favoured destination for larger, organised cycling events, he says.
"Our message is don't compete, share the roads. Be considerate of each other," said Supt Moon.
'Tribal mentality'
Andy Lindsay, who works at a bicycle shop in West Byfleet, welcomed the campaign and said both cyclists and drivers had responsibilities.
Edmund King, president of the AA, who is both a driver and a cyclist, also said: "There are a minority of cyclists and a minority of motorists who do sometimes have a bit of a tribal mentality.
"What we need to do is break down some of those barriers because most cyclists are drivers, and many drivers indeed are cyclists."
He also said infrastructure could be improved in towns and cities but on rural roads it was "about giving respect".
Mr Furey, who is also the chairman of the Drive Smart board, said: "The roads are for everybody to use, but what everybody must recognise is that it is a public space, that if either party behaves badly, someone will get hurt."