Anonymous 'hacks Mole Valley council website'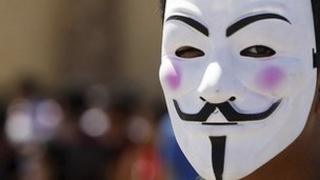 A Surrey council's website has been hacked with pages replaced with references to David Miranda, who was recently detained at Heathrow Airport.
Mole Valley District Council's website was turned off on Monday afternoon after the attack.
The council believes it was carried out by the group Anonymous, which has been responsible for attacks on the Home Office and Sony.
A limited service is expected to be available by Thursday.
A council spokesman said: "The council is confident that the firewall protecting the public information, databases and internal information services have not been breached."
He said the council had decided earlier that a complete rebuild of the website was "the safest option".
'Smacks of desperation'
Professor Alan Woodward from the University of Surrey's department of computing said that hackers searched automatically for vulnerable websites.
"They attacked Mole Valley because they could.
"The hackers are looking for any government site, and this smacks of desperation on their part. They are just after publicity," he said.
He said no-one knows who Anonymous is, or what their manifesto is.
"As a political force it's very odd, and not a very efficient way of doing things," Professor Woodward, said.
'Took computer'
Mr Miranda was held at Heathrow for nine hours on Sunday while in transit from Germany to Brazil.
His partner is Guardian journalist Glenn Greenwald, who published documents leaked by US whistleblower Edward Snowden.
"I remained in a room, there were six different agents coming and going, talking to me," Mr Miranda said.
"They took my computer, video game, mobile phone, my memory cards, everything."
He has launched a legal challenge over the police's use of anti-terror laws to detain him and seize his property.