Campaign to buy Old Park and Gravelly woods in Surrey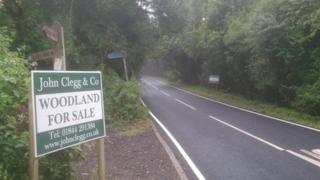 A campaign has been launched to raise £600,000 to purchase woodland in Surrey that residents fear could be lost.
The owner of Old Park and Gravelly woods has put the land on the market. It is described as having "timber harvesting opportunities".
Tom Bennington, who is leading the campaign, said the woodland, which spans 122 acres (49 hectares), was loved by the people of Caterham.
"It would be such a great loss to the community," he said.
Mr Bennington, chairman of the War Coppice Garden Village Residents' Association, said the woods had belonged to the same family since 1929.
Although "theoretically private", they have a number of footpaths which are used by the public, he said.
'Irrevocable change'
He said there had been attempts to develop the Old Park Woods for more than 30 years, including turning the land into a golf course, and a mansion.
He said that some of the trees had tree protection orders, but claimed that 80% to 90% could be lost.
"Local people are pretty concerned it would bring irrevocable change in the nature of the area we live in," Mr Bennington said.
"We want to turn the woods into a public space that people can use indefinitely.
"We'd like to develop the paths properly and have designated routes for horse riders, dog walkers and mountain bikers."
He said £56,000 had already been pledged, and the group had approached organisations such as the National Trust, Surrey Wildlife Trust, the Corporation of London and the Campaign to Protect Rural England for help.
The BBC has been told that the owner of the land does not wish to comment on the sale.
But chartered surveyors and forestry agents John Clegg & Co, which is handling the sale, said the felling of trees was controlled by the Forestry Commission.
"The owner either has to agree a five-year plan of operations or obtain a felling licence prior to any work being undertaken," the spokesman said.
"The Forestry Commission usually refers any applications to the local authority for comment."
After felling, the spokesman said an obligation is imposed on the owner by the Forestry Commission to restock the woodland.
"This way woodland is protected and remains as woodland in the long term," he added.