Missing Surrey chef David Pickett: Concern grows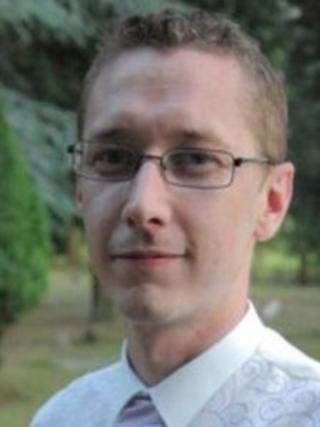 Friends and family of a missing chef whose dog was found alone on a lane in Surrey have been assisting specialist search teams in the hunt for him.
David Pickett, 34, was last seen at the Greathed Manor Nursing Home in Ford Manor Road, Dormansland, where he worked and lived, on Sunday evening.
He failed to turn up for work the next morning, with concerns raised when his dog was found off the lead close by.
His brother Russell said there were no clues as to why he had disappeared.
"We originally thought he must've been out just walking his dog... maybe he chased after him and tripped, fell and hurt himself," he said.
"As time goes by there's no sign of him."
Rural area
Mr Pickett added: "We're more worried that he's maybe banged his head, had some sort of injury [and] wandered off out of the area."
He said the area around the nursing home was very rural, and away from the village.
"There's not much about, just farmland, plenty of open space, wooded thickets," he said.
"It's really difficult to search."
Best friend Sam Bradley added: "It's so out of character for David."
He described him as "one of the nicest guys you'll ever meet" and "everybody's friend".
"He's a fantastic guy and we all love him so much and just wish for him to come home."
Mr Pickett is described as short in height, of a thin build with light brown curly hair, and wears glasses.
Surrey Police said several inquiries had been carried out as part of their search and a number of units had also assisted, including the police helicopter and dog unit.