Surrey residents 'feel trapped' by cycle race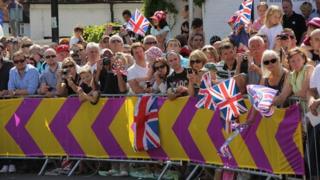 Residents living on the route of a race involving 20,000 cyclists say they will be "trapped" by road closures for the Surrey event.
The RideLondon-Surrey route takes cyclists from the Olympic Park in London, through Weybridge, Byfleet, Leatherhead and Esher, on Sunday.
Roads will be closed for much of the day, Surrey County Council said.
Councillor Helyn Clack said: "We are doing everything we can to minimise disruption."
'Residents not consulted'
Jenny Desoutter who lives in Dorking, said: "People are frustrated about being trapped in their homes yet again.
"There was a good feeling after the Olympics, but I think it's wearing a bit thin now.
"There aren't any alternative routes and tens of thousands of people will be unable to get to work, to get to church or meet their families.
"Sport is very good, but why do others have to pay the price by being inconvenienced?"
Details of road closures for the event can be found on the Go Surrey website.
Ian Mason from West Byfleet, said: "What rankles most is that residents were never consulted about having their roads closed, and nobody is going to compensate local business for their loss of revenue."
Mrs Clack, Surrey County Council's cabinet member for community services, said: "I'm very aware of the disruption to residents' lives, and we're doing what we can to minimise it."
'Plan ahead'
In July 2012, spectators lined the route of the Olympic cycling road races through Surrey. There were 545 road closures, and 42 miles of roadside barriers, 5,000 traffic cones and 4,000 road signs.
Mrs Clack said: "We have learned a lot from the Olympics, including developing communication with local residents.
"I can understand that some residents will not be able to use their cars, We are saying 'plan ahead'."
There will be two races on Sunday.
About 20,000 amateur riders will take part in the RideLondon-Surrey 100 race, with the first riders leaving the Olympic Park at 06:00 BST.
They will follow a route similar to that of the Olympic road races last July.
The RideLondon-Surrey Classic will feature about 150 of the world's top cyclists leaving London at 12;45 and following the same route through London and Surrey, before finishing on The Mall.