'Expensive' Surrey sees empty homes drive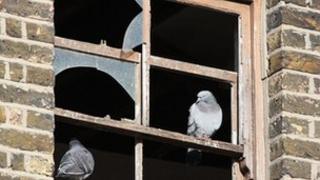 A drive to bring empty properties back into use is under way across five Surrey boroughs where more than 11,000 people are on housing waiting lists because many can't afford to buy homes.
Councils are using government cash of £793,000 to help buy or lease homes.
Andrea Cannon, from Transform Housing and Support, said people were finding it harder and harder to buy in Surrey because properties were so expensive.
She said private rent costs were also high and out of reach for most people.
The scheme involving councils and housing groups aims to bring empty properties into use across Elmbridge, Guildford, Runnymede, Spelthorne and Woking, and to create homes for more than 40 people.
In some cases, properties will be bought, refurbished and used as affordable housing, and in other cases homes will be leased, repaired and rented to people in housing need.
Ms Cannon said housing need was a serious problem across the whole of Surrey.
'Really difficult conditions'
She said: "It's getting harder and harder to buy properties in Surrey because properties are so expensive, but also private rented costs are high and out of reach for most people and housing benefit, if people don't have enough income, just doesn't cover the cost."
Research carried out by Elmbridge council based on government data found the five councils had more than 11,000 people on housing waiting lists in April last year.
Ray Morgan, chief executive of Woking Borough Council, said Woking had more than 40,000 properties in total but at any one time about 900 were empty and 300 of those were long-term empty.
He said: "With really difficult housing conditions, we need to be a little bit more positive."
The scheme would help the council to encourage homeowners neglecting properties to get them back into use, he added.