Masks used in Merstham football club attack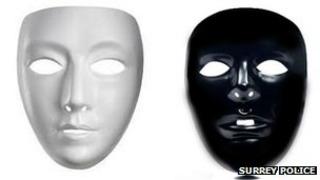 Two plastic masks are being sought after a bar manager was knocked unconscious with a pool cue during a robbery at a Surrey football clubhouse.
Two masked men attacked the bar manager as he was closing up with a female club member at Merstham Football Club at 00:35 BST on Saturday.
The man was knocked unconscious and the woman received minor injuries.
The masked attackers were described as being in their late teens or early 20s, medium build and wearing dark clothing.
They escaped with several hundred pounds and bottles of alcohol.
Following the robbery, they are thought to have escaped down an alleyway towards Albury Road.
Det Con Ian Cherrington said: "The masks may have been dumped in the area or someone may have seen them at the house of a friend or acquaintance.
"Either way I ask them not to touch or move the items and contact Surrey Police."