Extra funding for Surrey school places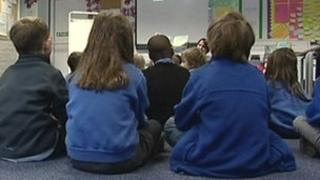 An extra £93m has been approved for extra school places in Surrey over the next five years.
The funding, approved by Surrey County Council's cabinet on Tuesday, is on top of £261m already earmarked for school expansion.
The government has also allocated about £28m to Surrey to create more than 2,300 extra school places.
The council said the money would go towards the biggest school expansion programme in the county's history.
Linda Kemeny, cabinet member for schools and learning, said: "Because of the rising birth rate and the growth in Surrey generally, we need to find an additional 16,000 [largely primary] spaces over the next five years or so, that will rise to over 20,000 over the next 10 years.
"These are very significant additions to our education capacity at the moment."
'Going all over'
But parents in south Woking, which has not been allocated funding, have launched a campaign for a free school.
Claerwyn Hamilton-Wilkes expects to submit the application for the Hoe Valley Free School in January.
She said there was no "natural" secondary school in the south Woking area.
"The children are going all over to the different schools in Woking and even further afield, to Addlestone and Guildford," she said.
"What we've decided to do is to take advantage of the free school movement and set up our own local secondary school for the children in the area."
Free schools are set up by groups of parents, teachers, charities, businesses, universities, trusts, religious or voluntary groups, but funded directly by central government.
Mrs Hamilton-Wilkes said it was hoped the school would open in 2015.
Mrs Kemeny said there were sufficient secondary places in Woking, which has four secondary schools with one due to expand.
The council was in regular contact with Ms Hamilton-Wilkes and was happy to work to achieve her aims, she added.