River Thames flotilla passes under £32m Walton Bridge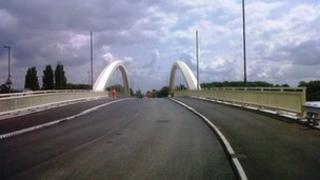 A flotilla of boats has passed under the new £32m Walton Bridge in Surrey - the first new road bridge to be built over the Thames for more than 20 years.
The celebrations marked the completion of the structure ahead of its official opening on 22 July.
The new bridge replaces two temporary bridges connecting Walton and Shepperton, built when an earlier bridge was damaged in World War II.
Rower Elaine Green said about 30 boats were taking part in the flotilla.
Ms Green, from Weybridge Ladies Rowing club, said her club had three boats and there were more from Weybridge Rowing Club, Walton Rowing Club, private cruisers and canoeists.
'Absolutely vital'
Nick Pollard, from the Sunbury and Shepperton Local History Society, who has written a book on the bridge, said it would be a crucial transport link.
He said: "It's a real point at which traffic funnels in to get across the river so it's absolutely vital.
"If there's any interruption to the bridge at all then you soon know about it on the local road network."
Mr Pollard said the bridge's soaring arches would be a feature in the local landscape for many years to come.
"I think it's an impressive bridge and it certainly stands out from the temporary bridges we've been used to all my life."
Surrey County Council leader David Hodge said the county's roads were among the busiest in Britain.
Surrey was a powerhouse of the economy and the completion of the bridge opened a new chapter, he said.
He said Thursday's events were attended by Transport Secretary Patrick McLoughlin, Defence Secretary Philip Hammond and Chief Secretary to the Treasury Danny Alexander.
The last new road bridge over the Thames opened in Wallingford, Oxfordshire, in 1993.
The most recent in the London area was the Queen Elizabeth II Bridge, part of the Dartford Crossing, which opened in 1991.