Surrey nature volunteers uncover Chobham Common handgun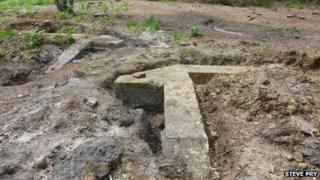 A handgun thought to date back to World War II has been found by volunteers working on a Surrey nature reserve.
Surrey Wildlife Trust had asked volunteers to help excavate "mysterious" concrete structures on Chobham Common, ranger Steve Fry said.
The group uncovered part of the concrete installation and also found a small, rusted revolver.
Mr Fry said the trust still needed to know what the structures were and also what era the gun was from.
He said the concrete blocks were found during winter tree felling and were thought to be part of a military structure built in the past couple of hundred years.
The concrete area could have been built in Victorian times but was more likely to be from the World War II era, he added.
'Plea for explanation'
"They are basically U-shaped bays of concrete built into the side of a hill. That's a bit simplistic, but I don't know how else you'd describe them," he said.
Mr Fry said he thought the gun also dated back to World War II but he hoped somebody would be able to reveal its age.
He said the trust was making a plea to anybody who knew about a large-scale concrete structure near Staple Hill.
He said: "We would love to hear from you if you've got any explanation, or even if you're just nosy and interested. Come and have a walk on the common, come and have a look at it, see what you make of it."
The wildlife trust would be asking The Tank Museum in Bovington, Dorset, if the concrete could have been "some complicated experimental bunker system for putting tanks in", he added.
But he said: "Really, we haven't got any more clue than that."