'Road rage' attack in M25 fast lane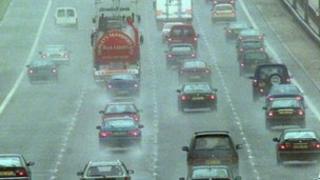 A woman was forced to stop in the outside lane of the M25, before her car was attacked in an act of "road rage".
Police said she was driving her BMW Z4 between Junction 11 and Junction 10 in Surrey when she was tailgated by a blue Mercedes just before 20:30 BST on Friday.
The driver undertook her before pulling back in front, and came to an abrupt halt.
A man got out, walked to the BMW and hit the window, cracking it.
The man then got back into his car and drove off, Surrey Police said.
The victim managed to move her car to the hard shoulder before calling for help.
The Mercedes is described as left-hand drive and foreign registered. There was a female passenger in the vehicle.
Det Sgt Gary Hutchings, from Surrey Police, said: "Forcing a vehicle to stop on the fast lane of a busy motorway is an extremely dangerous thing to do and this incident could have had serious consequences.
"Fortunately the woman was not injured but she has understandably been left very shaken by what happened."
He appealed for witnesses to the incident, which happened between junction 11 at Chertsey and junction 10 at Wisley.