Emily Davison death: Tree planted for 100th anniversary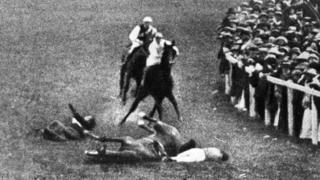 The 100th anniversary of the death of a suffragette who was trampled by King George V's horse at the Epsom Derby has been marked at the hospital where she died.
Emily Davison became a martyr for the suffragette movement after colliding with the King's colt Anmer.
She died four days later in Epsom Cottage Hospital, where a tree has been planted in her memory.
A plaque was also unveiled at the hospital by one of her relatives.
Mike Ford, chairman of the Epsom and Ewell Tree Advisory Board, said it was his idea to mark her death with the tree.
He said: "Times have changed, things have moved on and we realise what the suffragette movement did for this country to help get women the vote.
"Without these suffragettes... possibly men would still only have the vote. To say that women should not have the vote is a nasty reflection on a country."
One of Emily Davison's relatives, Philippa Bilton, who was at the ceremony, said the anniversary of her death had caught the public's imagination.
She said: "Women didn't have any rights 100 years ago, they weren't even considered good enough to be educated.
"There are other suffragettes who died who are not heard about... but at the time she really divided the country.
"It's a shame she died when she did because a year later World War I came along and women had to run the country while the men went off to fight."