Surrey golf course challenge to Cherkley Court plans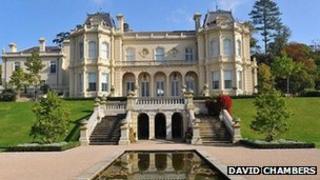 Plans to turn the former home of press baron Lord Beaverbrook into a hotel and golf course have been challenged in a High Court judicial review.
Environmental campaigners and residents are contesting a council decision to allow the Cherkley Court development.
Douglas Edwards QC, representing The Cherkley Campaign, questioned whether Surrey needed another golf course.
Mole Valley District Council and the developers have said there was no legal flaw when permission was granted.
Longshot Cherkley Court Ltd, the current owners of the Grade II listed property and 375-acre estate near Leatherhead, was given permission to create a hotel including a health club, spa, cookery school and 18-hole golf course in 2012.
Mr Edwards submitted to Mr Justice Haddon-Cave that the plans were highly controversial because of their impact on the green belt landscape of the North Downs, including areas of outstanding natural beauty.
He said Surrey had "a very substantial number of golf courses - the generally accepted figure is 141".
'No demonstrable need'
The court heard the developers' planning statement claimed there were 11 existing golf courses in the Mole Valley district, four of them in the Leatherhead ward, which is the location of Cherkley Court, including a private members' course adjoining the Cherkley estate.
Mr Edwards said the developers had proposed an "exclusive private" course with club membership restricted to about 400 members.
But he said there was an ample supply of golf courses in the area and an absence of any demonstrable need for another.
He said there was unequivocal expert evidence the development would be "harmful to the protected landscape".
Canadian-born businessman Max Aitken, who became Lord Beaverbook and owned the Daily Express, bought the house in 1911 and lived there until he died in 1964.
The property was built in 1866 before being rebuilt in the French chateau style in the 1890s.
Outside court, Tim Harrold, vice-president of the Campaign to Protect Rural England in Surrey, said: "We are talking about a particularly beautiful part of the Surrey countryside and something of national importance."
He added: "We believe we have to prevent inappropriate encroachment of the London Metropolitan Green Belt, set up as a green lung to which people can go, and not just the people of Surrey. Once it is lost it will be lost forever."
The case continues.