Redhill Aerodrome concrete runway plans rejected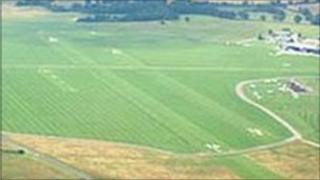 Plans to build a runway at Redhill Aerodrome have been rejected, two years after the original plans were refused.
The aerodrome wanted to replace its three grass runways with a concrete one, giving it potential to increase flights from 60,000 to 85,000 a year.
Bosses said the plans would create 140 new jobs and secure the future of the firms at the business park there.
Reigate and Banstead councillors refused the application at a meeting on Wednesday.
They said the plans constituted "inappropriate" development in the green belt and rejected claims businesses would leave the premises without a hard runway.
Jon Horne, chief executive of the aerodrome near Gatwick Airport, said in the first three months of this year, business was down 40% from last year due to wet weather.
"You just can't run businesses viably on that sort of basis," he said.
He said the aerodrome was likely to appeal against the decision.
The plans were also rejected by Tandridge District Council last week.
Both councils turned down the aerodrome's original application in 2011, "on green belt and highway grounds".
The aerodrome, which is home to more than 20 companies employing hundreds of people, has been in operation for about 80 years.