Bishop of Guildford, the Rt Revd Christopher Hill, to retire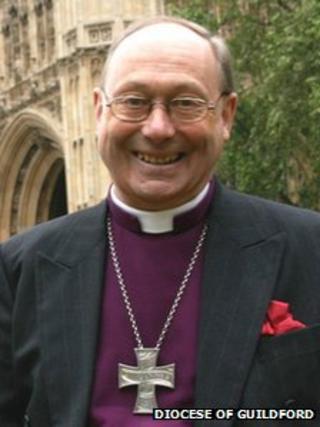 The Bishop of Guildford, the Right Reverend Christopher Hill, is to retire from his position as head of the diocese in September.
The bishop, who will be 68 in October, has served in the role for nine years, and is one of 26 bishops sitting in the House of Lords.
He is the ninth Bishop of Guildford since the diocese was formed in 1927.
The Bishop of Dorking, the Right Reverend Ian Brackley, will lead the diocese until a successor is selected.
The diocese covers most of Surrey and north east Hampshire - and one parish in West Sussex.
Bishop Christopher said his ministry in Guildford had been "hugely enjoyable".
'Truly inspirational'
"I will leave this diocese with huge respect for its communities, and have been constantly impressed by their level of commitment to the common good.
"People here have a deep Christian conscience which I have seen lived out each day.
"Some of my happiest moments have been the many baptism and confirmation services throughout the diocese... it is truly inspirational to be at the focal point of people coming to faith."
Upon his retirement, he will also step down as chairman of the Ecclesiastical Law Society.
A farewell service of thanksgiving will be held at Guildford Cathedral on 28 September.