Ralph Vaughan Williams Surrey house Leith Hill Place to open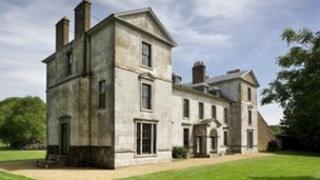 The former home of composer Ralph Vaughan Williams will open to the public this summer and autumn for a trial season.
The National Trust is still working on Leith Hill Place, near Dorking, which was given to the trust in 1944.
Visitor operations manager Gabrielle Gale said the house was not yet "a finished visitor experience" but people could see it in transition.
The house was also a Wedgwood family home and Darwin was a frequent visitor.
The composer's mother was a member of the famous Wedgwood pottery family, the National Trust said.
Furniture and instruments
Ms Gale said: "Unlike most National Trust houses, Leith Hill Place has not been renovated or interpreted to reflect the time when Ralph Vaughan Williams was living there, but the aim is to reflect much of the house's interesting historical associations as it stands today."
The unfurnished property had been left to the National Trust by Vaughan Williams.
The house was vacated by the Hurtwood School four years ago, after a tenancy of 30 years.
Ms Gale said the trust was appealing for furniture and musical instruments to be used at the house.
She said plans for the property included art, craft and musical activities, guided tours for small groups, and plans for small-scale concerts.