BMI Mount Alvernia Hospital: NHS halts referrals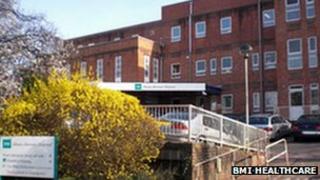 The NHS has stopped referring patients to a private hospital in Surrey which has suspended children's surgery due to "life-threatening" failings.
BMI Mount Alvernia Hospital in Guildford, Surrey, has apologised following the Care Quality Commission (CQC) report.
The local NHS clinical commissioning group said it had stopped sending patients there for the time being.
It said it would rescind the suspension after issues had been addressed.
In a report on Thursday, the CQC demanded immediate improvements to "protect people from coming to harm" at the hospital.
Inspectors who visited the hospital in December 2012 and January 2013 said it failed on eight out of nine standards, including consent to care and treatment, and cleanliness and infection control.
'Action needed'
Dr David Eyre-Brook, Guildford and Waverley CCG chairman, said: "We take any concerns about patient care extremely seriously and have taken immediate action to ensure the safety of patients while issues identified by the CQC are resolved.
"As part of this, we are making rapid arrangements for patients to be offered treatment with other healthcare providers to ensure they receive the care they need promptly."
He said all Guildford and Waverley GPs had been informed of the suspension.
He added: "We will be liaising closely with the CQC and will rescind our suspension only when we and the CQC are satisfied that all appropriate actions have been carried out by the hospital to fully address the issues raised by the inspectors."
On Thursday, BMI Healthcare chief executive Stephen Collier said: "The hospital's practices let BMI and our patients down and I apologise for that."
He said the hospital had not maintained the high standards in 2012 that it and its regulators demanded.
Mr Collier said the hospital had contacted anyone who may have been affected, and he had written to all patients admitted in the past year.