Child surgery stopped over 'life-threatening' failings at Mount Alvernia Hospital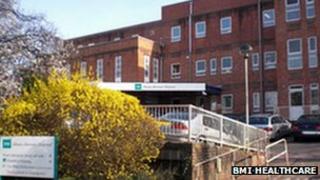 Children's surgery has been suspended at a private Surrey hospital after "life-threatening" failings were raised by the health watchdog.
The Care Quality Commission (CQC) demanded immediate improvements to "protect people from coming to harm" at BMI Mount Alvernia Hospital, Guildford.
Inspectors visited the hospital in December 2012 and January 2013.
BMI Healthcare apologised for "entirely unacceptable" failings and said it had voluntarily halted children's surgery.
The CQC was due to publish a report on Wednesday about the inspection but said the publication would be delayed because the hospital had made representations on two issues.
The report, published on Thursday, reveals that the hospital failed on eight out of nine standards, including consent to care and treatment, and cleanliness and infection control.
It passed on the management of medicines.
'So poor'
The report said that most people the inspectors spoke with were happy with their care and treatment.
But it added: "However, the staff we spoke to and the documents and reports we saw highlighted very serious failings.
"Medical, surgical and some nursing practices at BMI Mount Alvernia Hospital were so poor that people were put at significant risk.
"This risk was, on some occasions, life threatening.
"One of the most serious concerns was the care of children admitted for surgery," the report said.
The document said that staff were untrained and had "very limited experience" of caring for sick and post-operative children.
"The hospital management team were dismissive of staff concerns and blocked action to improve the situation," the report added.
Inspectors said they were told by staff that a child was operated on without written parental consent.
"The child was brought in by a member of school staff, who signed the consent form," the report said.
"The guidance on consent issued by both the General Medical Council and the Royal College of Nursing states that only the child and/or the parent may give their consent to a surgical procedure and that this should be in writing."
The report also said a patient was given a nerve block on the wrong side of the body, and a "life threatening emergency" occurred while another patient was being anesthetised.
"Theatre staff needed to take emergency action to ensure patient safety," it said.
"However, the required equipment such as a difficult airway trolley and tracheotomy set was not readily available and staff were unfamiliar with some of the emergency equipment that needed to be used."
Another patient had abdominal surgery without any written consent and no record of verbal consent, the report said.
'Formally warned'
The document added that resuscitation team members had failed to attend emergency calls.
BMI Healthcare chief executive officer Stephen Collier said: "The hospital's practices let BMI and our patients down and I apologise for that.
"In 2012 we were not maintaining the high standards that we and our regulators demand at Mount Alvernia.
"I want to reassure our patients that the hospital has already been in touch with anyone who may have been affected by a particular incident.
"I have personally written to all patients who were admitted for treatment at Mount Alvernia in the last year explaining what has happened and providing contact details should they want to discuss the matter further with us."
A CQC spokesman said: "Following the inspection CQC raised serious concerns with the provider and formally warned them that immediate improvements were required to protect people from coming to harm.
"As a result of our concerns being raised with them, BMI agreed to voluntarily suspend children's surgical admissions at the hospital and to start making other changes required.
"We have continued to monitor the hospital closely. Full details of our inspection will be published shortly."